As I have said in previous posts, I am fortunate enough to live in Fairhope, Alabama, a small town on the shores of Mobile Bay. Fairhope was founded as a utopian single tax colony, and soon became a favorite summer haven for artists and intellectuals. Here are just a few of the famous names who have resided here: Jimmy Buffet, winston Groom (author of Forest Gump), and Fannie Flagg. The city was named on of the top fifty places to retire in The New York Times, and the best small town by Southern Living magazine.
The beautiful Fairhope Pier
If you have not yet visited Fairhope, I highly suggest you make a trip. In the spring, the city hosts the Arts and Crafts Festival, where artisans from across the country showcase their work. Last year, it attracted over 250,000 visitors. If you take the trip, I suggest staying at the Grand Hotel Marriot, a local landmark that has been around since 1847.
The Fairhope clock, another local landmark.
Many of the buildings in downtown fairhope are historic, but quite a few were built recently.
This building, The Lyons Share Art Gallery, was a beutiful design by the local architect firm Walcott Adams Vernuille. The owners reside on the second floor.
P
hoto courtesy of Walcott Adams Vernuille
Walcott Adams Vernuille's office; a modern take on west indies architecture.
P
hoto courtesy of Walcott Adams Vernuille
A charming store front. Notice the iron balcony, a detail very prevalent downtown. Also designed by Walcott Adams Vernuille.
Another downtown building in the final stages of construction. Once again, notice the iron balconies.
Now for some houses. Driving along the treelined streets of Fairhope, you never know what you are going to find!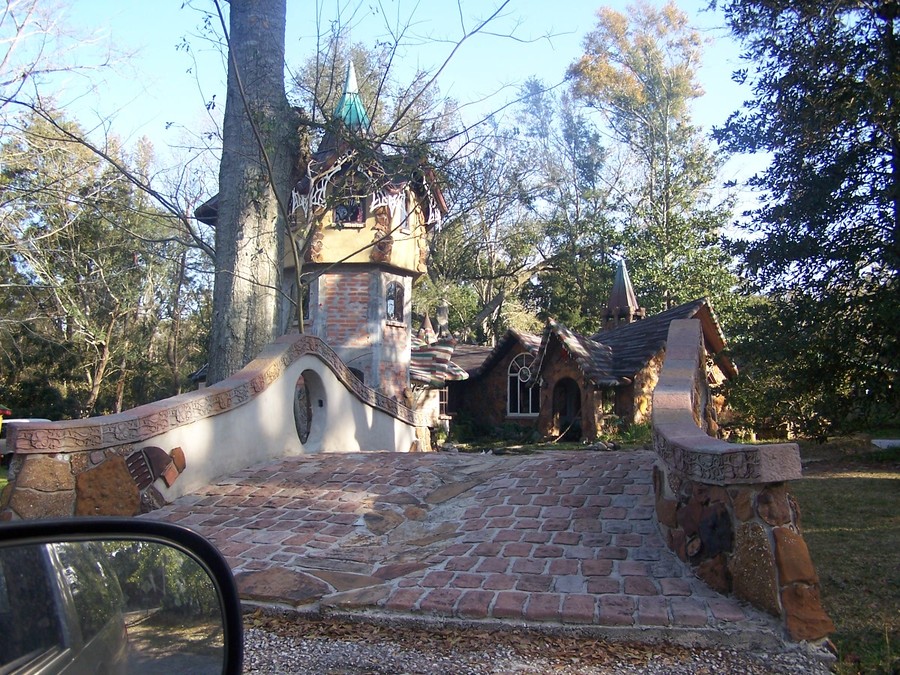 This charming home, which us locals have dubbed simply "the castle house" is hidden just blocks away from downtown. The home was hand built with mostly recycled materials. This home was on a house tour a few years ago, but unfortunatly, you were unable to take pictures.
A shot of the castle's almost identical guest house:
Most larger homes are either on Mobile Bay, where lots, at the cheapest, are usually around two million, or in the Point Clear Polo Fields.
A beautiful plantation style estate in the Polo Fields. I love the gate!
Another large home in the polo fields, currently for
sale
. The house totals more than 9,000 square feet.
A beautiful bay-front home. The board-and-batten siding, working shutters, and front porch seem to be required for a home on the bay!
The homes downtown maybe a little smaller, but they are definitely just as beautiful.
A charming cottage right of Church Street. (one of the main streets in Fairhope)
Architecture by Walcott Adams Vernuille.
A historic home built in the 1930s. (I think) Recently renovated by, you guessed it, Walcott Adams Vernuille. No I did not purposely choose buildings by this firm, but their work is all over Fairhope. This lot itself is worth well over one million , because it is located on the bay bluffs. Mobile Bay is right across the street.
One of my favorite houses. I love the iron balcony and ivy covered columns.
This has to be my favorite home, which I used to pass daily. It is on an extremely large, private wooded lot. In the back, there is a beautiful pool and a pool house very similar in appearance to the main house.
I hope you enjoyed your tour of Fairhope! More pictures to come!